Announces the Release and Presale of the Live Double DVD/CD Collectors Set, "The Police: Certifiable" Available Only At Best Buy...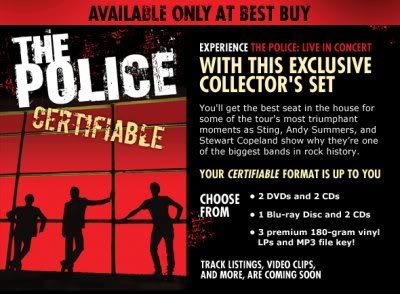 Thirty years after their first American tour, one of the biggest bands in rock history, The Police will play their final show at Madison Square Garden in New York City on August 7. Fans unable to obtain coveted final performance tickets will now have the opportunity to be a part of this historic evening thanks to an exclusive webcast presented by Best Buy. Fans are invited to share the band's final moments on stage, live from the comfort of their own homes.

After fifteen months of touring, The Police will take to the stage one last time in New York on August 7, 2008 as a benefit for New York Public Television. Best Buy will be on-site to document the band's historic final moments on stage and will exclusively stream live footage of their final encore on BestBuy.com hosted by pop culture correspondent Lauren Scala. To view the live footage, fans should log on to www.BestBuy.com/ThePolice at 10:45 PM EST.

"At Best Buy we understand how passionate our consumers are about music and we are thrilled to be able to share these once in a lifetime moments with those who do not have the opportunity to be at the concert in-person" said Gary Arnold, senior entertainment officer for Best Buy.

In addition to the live webcast, which includes three of the last four songs in the encore, Best Buy will begin the presale of an exclusive DVD/CD set, "The Police: Certifiable". The set features the band's entire concert from Buenos Aires as well as bonus footage, available in a 2 DVD/2CD standard format or a 1 DVD/2CD Blu-ray format. Also available is a three LP premium vinyl set with an MP3 file key (a one-time free download of entire album).

About Best Buy Co., Inc.

Best Buy Co., Inc. (NYSE:BBY) operates a global portfolio of brands with a commitment to growth and innovation. Our employees strive to provide customers around the world with superior experiences by responding to their unique needs and aspirations. We sell consumer electronics, home-office products, entertainment software, appliances and related services through more than 1,150 retail stores across the United States, throughout Canada and in China. Our multi-channel operations include: Best Buy (BestBuy.com, BestBuy.ca and BestBuy.com.cn), Future Shop (FutureShop.ca), Geek Squad (GeekSquad.com and GeekSquad.ca), Pacific Sales Kitchen and Bath Centers (PacificSales.com), Magnolia Audio Video (Magnoliaav.com) and Jiangsu Five Star Appliance Co. (Five-Star.cn). Best Buy supports the communities in which its employees work and live through volunteerism and grants that benefit children and education.