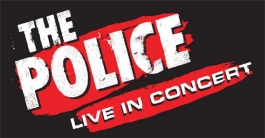 Dec 1 River Plate Stadium, Buenos Aires, Argentina
Dec 5 Estadio Nacional, Santiago, Chile

The Police Fan Club presale for these shows will start Tuesday August 14 from 10am (local time). Head to ThePolice.com Tickets at this time to purchase your tickets. The tickets will go on public sale on Friday, August 17 (Buenos Aires) and Thursday, August 23 (Santiago).

REST OF THE WORLD TOUR ITINERARY 2007/2008

01 Dec River Plate Stadium, Buenos Aires, Argentina
05 Dec Estadio Nacional, Santiago, Chile
17 Jan Westpac Stadium, Wellington, New Zealand
19 Jan Western Springs, Auckland, New Zealand
22 Jan Suncorp Stadium, Brisbane, Australia
24 Jan Telstra Stadium, Sydney, Australia
26 Jan Cricket Ground, Melbourne, Australia
28 Jan AAMI Stadium, Adelaide, Australia
01 Feb Members Equity Stadium, Perth

Important Fan Club Sale Instructions

Our fan club sale system will generate your fan club sale passcode for you when the shows go live. You will not get a passcode before the fan club sales start. We strongly advise that you carefully review the instructions on how to participate in the fan club presales before they start. View these instructions at Ticket Presale Guidance.

Please note that the Police Fan Club is not just a ticket club. Joining the Fan Club is not a promise that you will be able to get tickets to a show.

Local Time:

What does 'Local Time' mean?

For example: if we say "presales start at 1pm Local Time" and there is a presale in NY, it will happen at 1pm EST and if there is a presale in LA, that presale will start 1pm PST. If you are interested in a presale that is outside your timezone, please make sure to adjust for any time zone difference.

Stay tuned to ThePolice.com Tickets page for more info.