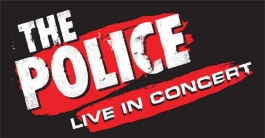 The Police today announced that Fergie would join the band on their upcoming visit to New Zealand and Australia. Also, due to overwhelming demand, the band has confirmed additional shows in Perth and Adelaide, as well as a move to an indoor venue for both Adelaide concerts.

Fergie is already well known to audiences in Australia and New Zealand after many trips down under as a member of the Black Eyed Peas. Her dates with The Police will be Fergie's first solo visit following double platinum sales of her debut album 'The Dutchess' in Australia (which has reached platinum status in New Zealand). She has also found impressive chart success this year with such singles as 'London Town' and 'Big Girls Don't Cry'.

Fergie will join previously announced special guests Fiction Plane, who will open in each city.

The Police also announced a second concert in Perth today, which will be held at Members Equity on Saturday, February 2. Tickets for the new concert will go on sale on Friday, October 12 at 9am local time.

Finally, the Adelaide concert scheduled for Monday, January 28 at AAMI Stadium will now be held on Monday, January 28 and Tuesday, January 29 at the Adelaide Entertainment Centre. This venue change gives Adelaide fans the opportunity to see the only indoor performances by The Police in Australia. Ticket holders for the AAMI performance have the choice of exchanging their current seats for the 29th or being automatically re-allocated for the 28th. Tickets for the previous AAMI performance can be exchanged immediately, and until October 14.

For complete details ticket holders can visit text or www.frontiertouring.com.au. Remaining Adelaide tickets will go on sale to the public on October 22 at 9am local time.

The Police Tour opens in Wellington, New Zealand on January 17 and will finish in Perth on February 2. Tickets are still available to all shows in most price categories.

The Police tour is produced by The Next Adventure, A Live Nation Company & RZO Entertainment, Inc. in association with The Frontier Touring Company.

For complete tour and ticket information, visit: www.thepolice.com.