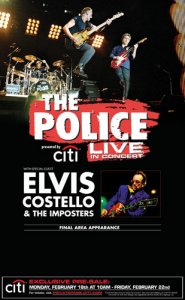 The Police opened the 2008 North American leg of the reunion world tour at Ottawa's Scotiabank Place last night.

The show opened with a dramatic change - instead of 'Message In A Bottle' ringing out, Sting took a seat on a stool and cradling his mini classical guitar the band launched into 'Bring On The Night', giving the song it's first airing since the band reunited at The Grammy awards last year. The surprises weren't over though as the next song brought a second setlist change with 'Demolition Man'.

The full set list for the show was:

Bring On The Night
Demolition Man
Walking On The Moon
Synchronicity II
Voices Inside My Head
When The World Is Running Down
Don't Stand So Close To Me
Driven To Tears
Hole In My Life
Every Little Thing She Does Is Magic
Wrapped Around Your Finger
De Do Do Do, De Da Da Da
Invisible Sun
Message In A Bottle
Can't Stand Losing You
Roxanne
King Of Pain
So Lonely
Every Breath You Take
Next To You

The show opened with a terrific set by Elvis Costello and the Imposters which included 'Everyday I Write The Book', 'Alison', 'Watching the Detectives', 'Radio, Radio', 'Pump It Up' and 'Peace, Love and Understanding'.