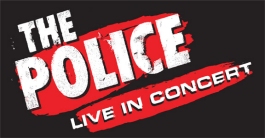 The itinerary for The Police World Tour has been extended beyond its original finish date to enable disappointed ticketholders to attend previously postponed shows.

Live Nation Global Touring confirmed today that the tour, currently scheduled to end in Japan in February will be reformed to accommodate shows in June 2008 as replacement for the postponements.

"We're thrilled to be able to bring the band back to Europe to make up these shows", said Arthur Fogel, CEO of Global Touring for Live Nation and Tour Promoter of The Police Tour.

Ticket holders for the Mannheim show should retain their tickets which are now valid for a show on 5th June 2008, the Dusseldorf show will now be performed on 8th June 2008. Tickets from Manchester (October 15th) are now valid for 17th June 2008, and Manchester (October 16th) are valid for 18th June. Refunds are also available and ticket holders can contact their point of purchase.

The postponed show in Antwerp can not be rescheduled and is now cancelled. Ticket holders for this show should return to point of purchase for a refund.

The second American leg of The Police World Tour starts at Madison Square Garden in New York on October 31st and continues to Central and South America throughout November and December of this year. Dates are scheduled in New Zealand, Australia, Japan and China for early '08.