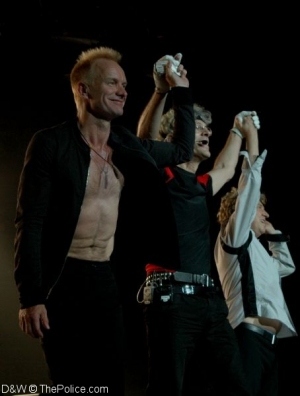 Reunited Rockers The Police Begin World Tour Playing loud and loose like they had never been away, the Police kicked off their first world tour in more than 20 years on Monday, delivering a two-hour set for 20,000 fans in Canada. Reuters - May 29, 2007

Sting, the Police Wow Vancouver at Start of Global Reunion Tour The audience at General Motors Place - including the young and old, though mostly fans in their 30s and 40s - knew the words to every song, making the two-hour concert akin to a soccer-style chorus, beginning with the opener 'Message in a Bottle'. Bloomberg - May 29, 2007

Police kick off reunion tour in Vancouver The Police kicked off their 30th anniversary reunion tour with an arresting Message - in a Bottle. The sold-out crowd at GM Place in Vancouver, on hand for the tour's official opening Monday night, screamed their appreciation as the legendary eighties trio dove into their hit song from 1979's 'Reggatta de Blanc'. The Globe & Mail - May 29, 2007

Performing the first of two sold out concerts to a capacity crowd of over 20,000, last night's world tour opener in Vancouver with The Police was a resounding success with fans and critics united in their enthusiastic endorsement of what will definitely be the tour of the year.

From the opening notes of 'Message In A Bottle' through a set list which included: 'Roxanne', 'Synchronicity', 'Every Little Thing She Does Is Magic', 'Every Breath You Take', 'When The World Is Running Down', 'Spirits In The Material World' to name a few of the mega-hits The Police performed, the energy that Sting, Stewart Copeland and Andy Summers exuded on stage was matched only by the exuberant response of the audience.

With over 1,770,000 tickets sold to date and more concerts to be announced, The Police tour is definitely the hottest ticket of the year. North American tour highlights include headline performances at this year's Bonnaroo Music & Arts Festival on June 16th and the Virgin Festival on August 4th as well as additional appearances at Boston's historic Fenway Park, Chicago's Wrigley Field, and Churchill Downs - home of the Kentucky Derby. The Police will also play 3 Los Angeles area performances including dates at Staples Center, Dodger Stadium and the Honda Center in Anaheim and multiple dates in New York, including Madison Square Garden and Giants Stadium.

Following the North American tour, The Police will kick off Europe on 29-August in Stockholm, Sweden with additional concert dates throughout the UK and Europe including: London, Holland, Germany, Italy, Spain, France, Austria, Ireland, Belgium & the newly announced Lisbon performance 25-September at National Stadium.

Following the European tour, The Police will return to North America beginning October 31st at New York's Madison Square Garden, followed by Boston's TD Banknorth Garden on November 11th. Tickets for both these performances will go on sale Monday, June 4th. Additional fall dates to be announced will include performances in Mexico and South America followed by 2008 performances in Japan, Australia and New Zealand.

Special guest Fiction Plane opened the show and will continue on the entire tour. Known for their high-energy live shows, this dynamic rock trio have just released their 2nd album, "Left Side of the Brain" in May. Fiction Plane are: Joe Sumner (Bass); Seton Daunt (Guitar); Pete Wilhoit (Drums).

Additional support artists added to some of the stadium shows include: The Fratellis, Foo Fighters, Maroon 5, Maximo Park and Mr. Hudson & The Library.

The band are due to release a Greatest Hits collection, 'The Police' (A&M) on June 5(US)/June 11(UK/Europe) to celebrate the 30th anniversary of their first single 'Fall Out'. This consummate collection brings together the biggest hits from the band's five original studio albums and includes their very first single, 1977's 'Fall Out'.

The North American tour is presented by Best Buy, the leading consumer electronics retailer with nearly 1,000 retail locations in the United States and Canada. For additional information, visit: http://www.bestbuy.com/thepolice.

A portion of the proceeds from this tour will be donated to WaterAid, an international NGO founded in 1981 and dedicated to reducing poverty by improving access to safe water, sanitation, and hygiene education. For information, visit: http://www.wateraid.org.

The Police World Tour is produced by The Next Adventure, A Live Nation Company in association with RZO Entertainment, Inc.