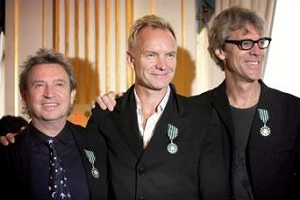 On Monday October 1, The Police received a French award for their contribution to the arts after playing two sell-out concerts in Paris.

French Culture Minister Christine Albanel conferred the Order of the Arts and Letters on Britons Gordon Sumner (Sting) and Andy Summers and American Stewart Copeland.

Albanel praised the 80s group for the "new sound" that they generated and expressed "France's full admiration and recognition" for the band's music.

"We are very touched because we deeply admire French culture," Sting told reporters in French following the brief ceremony at the culture ministry in Paris.

He jokingly commented that as British subjects, he and Summers found it "very exotic" to be made "chevaliers" of the order of the French republic.

Albanel praised Sting's "charisma and uncommon character" and noted that the first guitarist recruited to be part of the initial group in 1977 was Frenchman Henry Padovani, who was ousted after Summers joined that year.

Padovani joined the trio on stage in Paris on Saturday to perform 'Next To You', marking the first stage appearance of all four band members since the tour was launched in May.

Close to 160,000 fans packed a stadium north of Paris on Saturday and Sunday to hear The Police, who will wrap up their European tour this month before heading back to the Americas ahead of concert dates in Australia, New Zealand and Asia next year.

Shortly before noon on Monday, Sting, Summers and Copeland caused a commotion when they arrived at the culture ministry on rented bicycles that are part of the city's newest environmentally-friendly scheme.