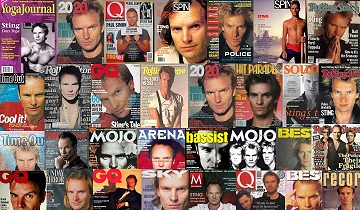 The following article appeared in a March 2019 issue of Billboard...
Sting will be sailing The Last Ship, currently docked in Toronto, into Los Angeles early next year.
His Tony Award-nominated musical inspired by the shipyard culture of Sting's native Newcastle, England, will run Jan. 14-Feb. 16 at the Ahmanson Theatre, with Sting playing shipyard foreman and elder statesman Jackie White -- as he's doing now at the Princess of Wales Theatre in Toronto and did during the end of its Broadway run during January of 2015.
"I'd like to think this play could live without me," Sting, who will be in Toronto with the production through March 24, tells Billboard. "I don't want to be tied to the mast for the rest of my life, but I will take it to the next stage to see what happens. I'm more than happy to take it to (Los Angeles) and then see where it goes. I agreed to do it because I realized the real politics of being a name and how effective that is. But I do think it could survive without me, you know, with good actors."
The Last Ship premiered in Chicago during the summer of 2014 before moving to Broadway that September, closing after a little more than four months. It was subsequently staged in Salt Lake City during the fall of 2016, in Finland during the fall of 2017 and in the U.K. and Ireland during 2018. "I think it's a real story," Sting says. "It's about real issues. It's not a fairy tale or Disney property, you know? It's something that's relevant. I think people find a resonance in it. That's unusual in a musical. It's also telling the story of the community I came from. There's probably more of me in it than I intended, but that's OK. I'm enjoying the hell out of it."
The Last Ship's U.K. tour and the Toronto production have also unveiled a new book by current director Lorne Campbell, which has streamlined the narrative and removed some characters that some felt took attention away from the socio-political crux of the story. "I think it was maybe too ambitious at first, but we learned our mistakes in the full glare of publicity, and I don't regret that," Sting explains. "For me it's never finished. I'm constantly tinkering with it and looking at ways it can be modified. The Broadway world tends to be locked but in my world, music, I don't go there and try and reproduce something I wrote or recorded 40 years ago exactly the way it was. There's no other way if you're me. But I'm pretty determined, and I don't give in easily because I can see the value of it."
The musical's stop in Toronto underscored The Last Ship's relevance with a cast visit to Oshawa, Ont., on Feb. 14 to perform for General Motor workers facing a threatened plant closure -- ironically in an arena named for the auto manufacturer. "What we did was just a gesture of support and solidarity," Sting says. "Those people were clearly anxious; They were happy to see us but you could definitely see there was an anxiety there -- understandably -- and the cast were very galvanized and inspired by the reality of what they were portraying on stage. It was very moving for all of us. I don't know how much or how effective it could be to change things, but the fact is they're moving the plant so they can pay workers in Mexico $2 an hour and save money, even though they make vast amounts of money and Canada bailed them out. Where's the loyalty? That's exactly what (The Last Ship) is about."
Whilst ensconced in Toronto, Sting is also doing some recording and planning his upcoming My Songs tour, which will play five shows in Europe starting June 23. During his stay he also won his 14th Grammy Award, best reggae album for his 44/876 release with Shaggy, with whom he performed during the previous year's Grammy ceremony. He wasn't surprised with the win, either. "You know, it's a good album in any category, in my opinion," Sting says. "I thought once we were nominated we would win. Does that sound arrogant? It's honest, not arrogant. And we were so happy for Shaggy because he hasn't had one in a long time, and he deserves it. We've really formed a genuine friendship, and there's a genuine rapport. People were infected by that, even if they had been skeptical at first about this odd combination. We'll do it again, I'm sure."
(c) Billboard by Gary Graff