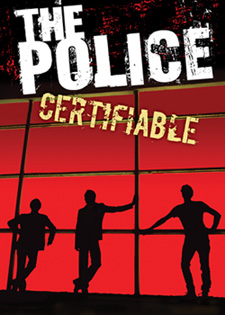 Police fans, get ready to relive all the sights and sounds of The Police world tour. "The Police: Certifiable," DVD featuring the band's entire performance from one especially hot night of music in Buenos Aires, Argentina is out now.

Fans in the United States can purchase "The Police: Certifiable" exclusively at Best Buy retail locations and BestBuy.com. For The Police fans in the UK, stop by The Police UK Store to pre-order your copy today - fans outside of the US & UK, head to The Police International Store to buy yours now.

In addition to the entire concert from Riverplate Stadium in Buenos Aires, "The Police: Certifiable" includes a 50-minute bonus feature, "Better Than Therapy," directed by Jordan Copeland. The feature details the entire historic run of The Police, complete with behind-the-scenes interviews with the band and crew, and a pair of photo galleries of The Police on tour, one by guitarist/photographer Andy Summers, and one by famed rock photographer Danny Clinch.

Get your copy in one of a number of different formats so that all fans can choose their favorite and enjoy "The Police: Certifiable" as it was meant to be played. The DVD Edition features the entire concert and the behind-the-scenes featurette on two DVDs, and the full double CD of the new live album from Buenos Aires.

For the fans who want the best concert experience possible in their own homes, choose the Blu-Ray Edition - enjoy the concert footage and featurette presented in stunning 1080 HD picture quality, plus Dolby True HD and Dolby Digital surround and stereo sound, and receive the 2-CD live album as well.

Or, for the fans who prefer hearing The Police on their turntables, get the full album on vinyl - 3 pieces of heavy weight, 180-gram vinyl, a wine spine gatefold jacket, and even an insert redeemable for a free mp3 download of the album.

Whichever way you choose to enjoy "The Police: Certifiable," be sure to order your copy today.