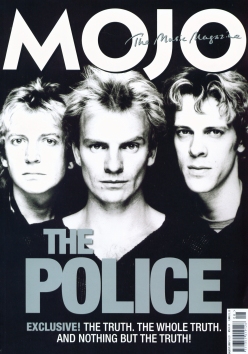 The August issue of the UK music magazine Mojo is a must have for all Police fans, as highly respected journalist Phil Sutcliffe - yes that Phil Sutcliffe - joined The Police as they started their world tour in Vancouver, and commits to print a close to 10,000 word, 16 page history of the band's career.

Here's an excerpt to whet your appetite...

Three Man Army...

The Police rose from phony '77 punks to global '80s stadium kings before crumbling in a fug of verbal cruelty. Now they're back. Phil Sutcliffe joins their world tour for the full astonishing story if chaos, coke and power struggles, and finds they still ''drive each other nuts''...

Soundcheck. Not long now; the comeback gig's only three hours away. But they don't look nervous. Even when their faces appear in enormous close-up on the big screens above them. Even though tonight, May 28, 2007, Vancouver GM Place hockey arena, it's their first concert proper for more than 20 years since they broke up in discord and disarray. They're talking to each other on-mike, meeting each other's gaze with grave attention, their intimate conversation echoing around the banks of empty bucket seats.

Civilised problem-solving, it seems.

"There's more juice in this than we're getting," says Stewart Copeland after a minute or two of 'The Bed's Too Big Without You'.

"It's nice to when we jam on it," says Andy Summers. The others nod.

Then Sting concludes, "It's something we can rehearse and get right." They group-hug and wander off.

Until 8.30pm when the 21,000 crowd audience stand up as one and roar a great breaking wave of welcome-back; no worries, no doubts, no concern for musicianly minutiae. Just, 'Message In A Bottle'... "Yaaaaaay!" Forty-two thousand hands shoot up in the air as it were Wembley and Hurst had just scored a last-minute winner. That is what happens when a comeback hits the spot: déjà vu and a whole new ball game.

Every song's a winner, every floodlit chorus and lonely verse. The crowd even cheers when the band launch into atonal counterpoints of their fetching pop melodies, those characteristic Police moments of molten construct-destruct when the band look at each other in wide-eyed speculation and alarm as if asking, "What key are we in? What song were we on before I got lost playing this?" Proof, if it were needed, that The Police didn't get to be the biggest band in the world in the early '80s by being the pristine smoothies of repute: they did it by standing up as three spiky individuals together, fighting for success, for their music, fighting each other; a band barely under control, sustainability not an issue or option...

For the full article, get your copy of Mojo magazine.